BEHIND THE SCENES I
Product Not Found
Sorry! The product you requested is not found in our catalog!

Wednesday, February 19, 2014 – 9:00 a.m. – 12:00 p.m. 
Join us for this special institute touring Hawai'i Volcanoes National Park's Museum collection.  Guided by the park's Cultural Resource Management Staff, view artwork, cultural artifacts, maps, photos, Volcano House registers and much more. Tour the Ohia Wing and see plans for the future.
We will learn about the challenges of caring for artwork and participants will be given tips on preserving artworks at home, how to conduct research on artists/artworks and conservation resources.
In the cultural collection, we will learn about types of cultural collections and why and how the park acquired various objects.  We will be presented with the different aspects of caring for cultural collections and the challenges faced.
This is a very limited space Institute.
Details
Participants will meet at the Visitor Center at 8:45 am for check-in and institute instructions.
No food or drinks will be allowed during this institute.  We will have use of an employee break room to keep our snacks, water, etc.
This event is not wheelchair accessible.  There are stairs, small corridors and tiny rooms for viewing.  Participants will be split up in groups of five to tour each room.
Please call Elizabeth Fien, Education & Outreach Coordinator at (808) 985-7373 for further information and restrictions.
.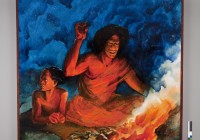 Prices
| | |
| --- | --- |
| Member | $35.00 |
| Non-Member | $45.00 |
| Student Member | $25.00 |